recent updates



10.october.2016 If you've visited any time in the past 3 years, you may have noticed that this site is not updated. It's with an empty wallet that I've decided to dump my domain name. spectacularx2.com today. It's there's not much interest in the site. And I just don't have time to make it all pretty and such. I might come back to it, as long as tripod exists forever or there's someplace to host it. Carry on.

Also updated some links to the email address associated with the domain name. They will no longer work. If you see the old domain name as part of the email address, you have the wrong one. Click the drop down bar from the main menu to select the Contact line, it should open an email in a new window.

08.march.2013 Did you catch Glee last night? Glee's episode on March 7, entitled "Girls (and Boys) on Film", was tremendous.

There were two covers of songs from Moulin Rouge! and the NYC gang were snowed in and resorted to watching my most beloved film of all time. There was a duet of "Come What May" by Blaine and Kurt. There was a performance also of "Sparkling Diamonds". I would say of the two, the first was more true to the film. You can give a listen to "Come What May" on YouTube




Many of the members of our message board enjoyed a lively chat on Facebook last night after the viewing. It felt like old times. It was true pleasure. Shout out to Ryan Murphy! Thanks for making a dream come true! And for those of you who are the truly obsessed stop by one of my good rougy friends's Tumblr SilentxSymphonyto check out all the pretty pictures from the episode. Thanks MC.

Much Love - Diamond Dog Jessica

19.october.2010 MOULIN ROUGE! is now available on Blu-Ray.After a long awaited 10 years, the ultimate version of Moulin Rouge! is finally available. Learn more about the new format and the specs of the blu-ray at High Def Disc News and you can join our discussion on The Moulin Rouge board.

I have yet to view this disc myself but will soon share some caps and more goodies. I know it's been a long time coming, but we are so excited. Also, Baz Luhrmann's "William Shakespeare's Romeo + Juliet" is also available on blu-ray today.
Thanks! - Diamond Dog Jessica

13.november.07 Hey guys! The Message Board has officially been moved to YUKU. Please update your links. The message board is now at http://moulinrouge.yuku.com/ or you can visit http://mboard.spectacularx2.com if you find that easier to remember. Happy Turkey day!

14.february.06 Wow my first update of the new year. Happy St. Valentine's Day! I hadn't checked the email for the site in a long time. Just wanted to let y'all know that I have no affiliation with the people that made Moulin Rouge! including Baz Luhrmann or any of the actors. Please do not email me to get to them. If you are writing a paper and need my opinion on something that's fine. Much love and kisses!

24.july.05 While I was listening to the radio the song "Rico Suave" came on today and it inspired me to do an update. The links page has been updated, and I accidently wrote over the index to the site! Luckily the computer gods were smiling on me and I was able to recover it through my computer. So, the links page is updated. Also I'll be moving in a little while... I'm super nervous but it's time. I hope to get the internet at the new domicile. I can't wait actually...

28.june.05 Well we're back at the old board again. We did lose a bit of content. Kate and the moderators are working on restoration. thank you all for standing by the board in this time a crisis. See you back at The Original Spectacularx2 board!

13.june.05Congratulations to Baz and CM on their second child!

The Sunday Telegraph reported that William Alexander was born June 8. He joins sister Lillian Amanda. He weighed 3.5 kg. Thank you Foxy for the heads up.

2.june.05 Noticed the guestbook wasn't working. Moved it. Guestbook now works. Please leave a message. Did not send an email to inform members of the site as this is a very arbitrary update.

1.june.05 Sad Anniversary

First of all let me thank you guys for being such awesome fans going on our 4th anniversary. On June 1, 2001 MR was released to the masses in the USA, and we're all better for it. I wish I could say it's a more happy aniversary.

Unfortunately today Ezboard was hacked (9000 boards) and we lost most of our historical as well as current posts on the board. We have a backup untill they restore posting ability.

Temporary Board
Hacked/Original Board

Hopefully Ezboard can restore some of the board, if not all. I miss it terribly, it's like losing memories, friends, history. :.(

15.aug.04 The Word Of Baz

Many of our fanbase have been eagerly anticipating the word of Baz to our website. You may not be aware of it, but our message board's co-Administrator Kate has spent a lot of time corresponding with the people at Bazmark, and she's gotten us an exclusive interview from Baz. We were allowed only 5 questions, and after we poured over all the submissions the website, she sent the letter including the questions. Just the other day, Baz replied. And so, in honor of the third birthday of the board and site, here is the interview.





Also please join us on AIM for our 3d birthday chat August 26 at 7pm EST

23.june.04 "Come What May" made the AFI's 100 Years 100 Songs, best songs of the cinema list.

Oh my goodness. I was going to watch AFI (American Film Institutes's) special 100 years 100 songs last night, and I almost completely forgot!!! I came in during The Rainbow Connection (in the 70s) and didn't see the first 25 in the top.. and boy did I miss out. I was so happy to see them honor MR for "Diamonds are a girl's best friend" even though it wasn't nominated for that song (originally sung by Marilyn Monroe in Gentlemen Prefer Blonds)... but all the comments by Baz and seeing Sparkling Diamants on tv put a huge smile on my face. Then I get online after work today and see the entire list. Come What May made it!!!

Here's a partial list:

AFI's 100 Years 100 Songs

| | | | |
| --- | --- | --- | --- |
| # | SONG | MOVIE | YEAR |
| 1 | Over the Rainbow | WIZARD OF OZ, THE | 1939 |
| 2 | As Time Goes By | CASABLANCA | 1942 |
| 3 | Singin' in the Rain | SINGIN' IN THE RAIN | 1952 |
| 4 | Moon River | BREAKFAST AT TIFFANY'S | 1961 |
| 5 | White Christmas | HOLIDAY INN | 1942 |
| 6 | Mrs. Robinson | GRADUATE, THE | 1967 |
| 7 | When You Wish Upon A Star | PINOCCHIO | 1940 |
| 8 | Way We Were, The | THE WAY WE WERE | 1973 |
| 9 | Stayin' Alive | SATURDAY NIGHT FEVER | 1977 |
| 10 | Sound of Music, The | SOUND OF MUSIC, THE | 1965 |
| 12 | Diamonds Are a Girl's Best Friend | GENTLEMEN PREFER BLONDES | 1953 |
| 14 | My Heart Will Go On | TITANIC | 1997 |
| 17 | I Could Have Danced All Night | MY FAIR LADY | 1964 |
| 26 | Trolley Song, The | MEET ME IN ST. LOUIS | 1944 |
| 33 | Aquarius | HAIR | 1979 |
| 49 | Make 'Em Laugh | SINGIN' IN THE RAIN | 1952 |
| 57 | Windmills of Your Mind, The | THOMAS CROWN AFFAIR, THE | 1968 |
| 65 | I Will Always Love You | BODYGUARD, THE | 1992 |
| 70 | Summer Nights | GREASE | 1978 |
| 72 | Good Morning | SINGIN' IN THE RAIN | 1952 |
| 75 | Up Where We Belong | OFFICER AND A GENTLEMAN, AN | 1982 |
| 80 | Springtime for Hitler | PRODUCERS, THE | 1968 |
| 85 | Come What May | MOULIN ROUGE! | 2001 |
| 98 | All That Jazz | CHICAGO | 2002 |
| 100 | Old Time Rock and Roll | RISKY BUSINESS | 1983 |


Also Moulin Rouge will play a part in LA's Outfest on July 14, hosted by Diamond Dog Bridgette of Madison County at the Ford. Join Bridgette at 8:30 p.m. in celebrating the film with an all-out sing-a-long in a Rocky Horror style showing of the best musical of 2001. Tickets are available through her website (scroll down) or at Outfest's even page. Also more info at those sites.

St. Louisans, do not forget the midnight showings at the Tivoli in just a short week. I'll be there. You better be there too!

22.may.04 Well it has been many moons since an update and this one's of somewhat epic proportions. SPECTACULAR! SPECTACULAR! has moved!!!! Well sort of. We've finally got our own domain. Hold your applause till the end of the update. ;) Please update your links to the new site at www.spectacularx2.com. It should look exactly the same, except with one key difference. No more annoying ads and popups! Yay!!! *throw confetti in the air*.

This recent change is all in preparation for our 3rd anniversary and birthday chat. Yes yes and here's the lovely banner made by DD Kate (words) and DD Krys (perdy colored pictures):



(click on the photo for more info)



Please come and help us celebrate our 3rd anniversary with all your diamond dog pals from the message board. More information is available at the offical party headquarters.

And last but certainly not least. Let's make a toast of absinthe to midnight summer movies. In St. Louis ('gateway to the west' in Missouri), where I hail from, the Tivoli theatre is hosting midnight movies sponsored by the Riverfront times. Moulin Rouge will be playing July 2 - 3, 9-10, 16-17. For directions and information, visit the theatre's website or email me. Horray! I plan on being there every day, rain or shine, high gas prices or not. Join me there in celebrating MR'04. :) If you know of MR playing elsewhere, please let me know and I'll gladly share the info on my site and credit you for the find!

16.jan.04 Happy New Year! Well I'm updating again. Seems the site's won another award from the fabulous Trinity and Neo of Chamber of a Journey!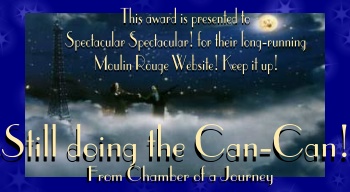 Molly sent me a new version of my award also, so that's updated from Ewan Rocks.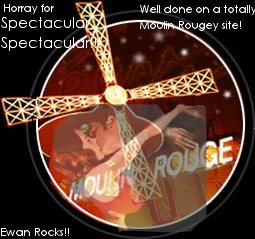 Also keep your eye out on VH1. It premiered Moulin Rouge on Jan 11 2004. :)

Big news for me. I bought my plane ticket to Los Angeles the other day. I'm going to see La Boheme on Feb 3. I'm so excited about it, plus all the sight-seeing. I'll take lots of pictures, I promise!

I'm also trying to figure out why I get pop-up ads and in-site banner ads as you can see above. Tripod didn't answer my question about it before. Usually it's supposed to be one or the other, and I've chosen pop-up ads, annoying, yes, but they don't ruin the design of the site. Hopefully if I email them again they'll answer me.

26.nov.03 Happy Thanksgiving everybody. I wanted to write a special thanks to everybody on the Board and everybody that's given support to the site. Thanks so much. I'll save a piece of pumpkin pie for you tommorow. Speaking of thanks, thanks to Krys for all the things she does and all her hard work on her own site, The Sparkling Diamond. To honor her, some of her fans set up her very own fanlisting. I've added it to my fanlist page and heck let's not be stingy, here too:



Also updated links page to be more up to date.

29.aug.03 Happy Labor day everybody. Well as you can tell my updates are getting further and farther between. This isn't to say that my interest is waning. I'm just loosing time. I think somewhere along this road I picked up a habit of going out with friends, going to work and collapsing in front of the TV.

I do intend to update again when the mood strikes me. I will work on the nonexistant photo gallery at some point. In this day and age of Pagemaker, Corel, etc. I've found that plain old HTML editing is losing its place, and I'm getting lazy.

I will update again. Mark my words. Until then please quench your thirst at the messageboard which is still up and kicking and just celebrated it's 2nd anniversary. It's even growing teeth now! I've also started a Live Journal if you miss peaking into my private life. I also intend to post things that are going on in the MR world.

On the bright side of things Nicole is on the cover of September's Vogue magazine. I finally bought a Life Less Ordinary and Baz is still going ahead with Alexander. Someday you might see me in LA going to see La Boheme when it get's there seeing as how I missed it in NYC.

27.may.03 Moulin Rouge has celebrated its 2-year anniversary (if you include Cannes) Please join us on May 31 to party like it's 2001 again and come celebrate Moulin Rouge's USA birthday. (opened June 1, 2001). The chat will be via Aol Instant Messenger available at http://www.aim.com. Please message slowdyingflowr (that's me) so I can invite you to the chat.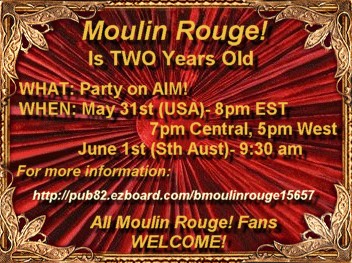 And while I'm here I want to remind you that Down With Love, Ewan McGregor's movie is now in theaters. I saw it twice opening weekend and it was supurb. Hillarious. If you like Ewan, and I know you do, go see this movie! The official site is at http://www.down-with-love.com. If you need any more convincing, I refer you to the towel an update below.

Also Kate of Moulin Goldmine, my co-administrator at the messageboard, scooped an exclusive with Midnite Moulin Rouge's Bridgette of Madison County. Kate's article was also posted at the messageboard but I've posted it here for easy viewing. I apologize, I've posted this about a month after Kate wrote it.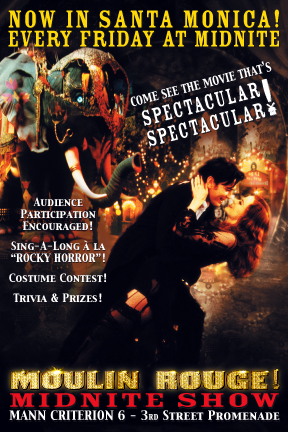 EXCLUSIVE! Bridgette's Midnight MR interview w/ DD KATE
---
Well Gang, here's an exclusive for you, feel proud that you get to see the insights of this show from the perspective of Bridgette!

I sent the e-mail asking for an interview a few days back and got this response...enjoy!
*And I asked for pics, and we got em!!*


---
Hey Kate! What an honor !!!! Here are the answers to your fabulous questions! Thank you, thank you, thank you!!!



When did you first see the movie?

I first saw the movie, the week it came out. My friend invited me to go with him because I've ALWAYS been a HUGE Nicole Kidman fan for like her entire career, I'm talking back to BMX Bandits here Kate , and my friend new it. So there we were, the lights went down the red curtains parted, and for the next 126 minutes, I was on THE emotional roller coaster of my life. Laughing, crying, yearning to sing and dance right in my seat... Moulin Rouge was the first film I ever wished my life was like. I wish men would sing to me, I wish I could dance on the clouds, I wish I had ALL the fabulous gowns and costumes... I wish I had red hair....

It was the single greatest moment of my life. I went back week after week. It changed my life. My new motto in life was "Come What May". Used for both good and bad times as was in the film.

How did you get permission to host midnight MR screenings?

It started as this kind of "One Woman Army" really... I decided that it had to come back in the theaters. IT JUST HAD TO! If this film had changed my life, it's GOT to changing others. So I started an online petition. People signed it, it got circulated.... but I didn't get any publicity. It hadn't caught on , but at least I knew there WAS an audience for it. Next I decided to picket outside the 20th Century Fox Studios. I put together a "Black Diamonds" outfit, and marched outside the studios ALL BY MYSELF with a picket sign... a few people stopped and I handed out flyers and stuff, but still not enough. So I asked some of my good "girl"friends to come and march with me. So we ALL headed out, everyone had a picket sign, and we marched outside the main entrance to the studios.

NOW we got attention.

We had chants, we sang songs from the film, people stopped and got pictures of us, it was a total scene. Next thing I know, the VP of FOX comes down and asks us what we're doing, and then the PRESIDENT of P.R. came down, and wanted to know what we were up to and why.

It was all very exciting...I mean: WE GOT NOTICED.

Next thing I know, Mann Theaters calls and says they'll donate a theater for us to do/perform the screenings at if we can get the rights, and by the end of the following week it was released on YAHOO biz news, that we had FOX WAS going to give us the rights to the films, and MANN theaters came through...and I just couldn't believe it....

Could you give us a quick run down on what goes on, the night of a screening?

It's great fun. People usually start to line up around 11pm. a few times the line has been down the block it's bee so great. People who come in costume, I give "participation" sacks to. (They include confetti, top hat, rose petals, party popper, etc. along with a list of when to use them). When the theater is full, I go down front and welcome everyone, and do a little trivia to give away official MR books, T-Shirts and things. (It gets everyone in the mood) THEN I usually try to have a new "blooper" each week to tell the audience to look out for during the film. Then I advise everyone to sing, dance, use their props, and "answer back" to the screen.

What I think is the greatest, is that EVERY night the audience is very respectful of the finale scene. The theater is silent, all eyes are on the screen for Satine's final lines. It's really incredible to think minutes ago, people were yelling and singing and throwing things, and then moments later they're walking out crying...

How successful have the screenings been so far, what have the numbers been like and are the audience willing to participate?



The audiences have been great. The first few weeks they were out of control, and then ..THE WAR... came and sabatoged us a little. But they're still coming, and the screenings are STILL going. As a matter of fact, they are moving us to the 3rd St. Promenade out in Santa Monica, CA where there is a stage below the screen. We are going into rehearsals, so that we can do musical numbers WHILE the film is going on. It should be a GENIUS visual element to add on top of everything else

.

Have you had any contact with Baz or Bazmark and do you know if Mr Luhrmann is aware of the midnight screenings?



The day we picketed, his"people" came out and took pictures of us and flyers to give to him...so hopefully he does know how much his work IS appreciated.



Have you met any of the cast or crew of MR before?



I haven't... and I would really be honored to, but honestly it's really so fabulous just to get to "see" them each week.



We'd love a visual of what the crowd looks like, do you get many people coming in costume, and of course more importantly...do you have pictures you can show us?!

www.bridgetteofmadisoncounty.com/moulinrouge

We've heard there are gift bags involved with party favors, what are in the bags?

-Confetti Cones for Satines first entrance

-Mini Top-Hat for "Hold on to your hat"

-Serpentine for the dance in the clouds

-Party Popper for the fireworks explosion during the "Elephant Medley"

-Play Money for" I've paid my whore"

-Rose-Petals for the finale

...and I've brought an umbrella sometimes for the dance in the clouds, a toy gun to throw at the effel tower... things like that.

What other movies do you like? What was your favorite before Moulin Rouge?

My favorite movies are Steel Magnolias, Beaches, Overboard, Troop Beverly Hills... to name a few.

My favorite movie before MR? Showgirls!!!!

Thank you so much for this opportunity, please log on to the website, feel free to e-mail me back, and thank you for being so supportive and enthusiastic about the Moulin Rouge Sing-a-long!!!

Sincerely,

Bridgette of Madison County

KATE...so there you have it! Be sure to check out the web site!! I WANNA GO TO LA!! I'll respond later, but I'm so delerious right now!



---

30.mar.03 Happy 32nd Birthday Ewan!!!! Hey guys and gals, if you're online now come on in and join the board's chat. (Ok the chat's over so don't bother right now lol)






Come on, let the towel go and get in that birthday suit!

29.mar.03 Diamond Dog Kaya was kind enough to send me a review of her visit to Westwood Mann Theatre. Here's Kaya's review. Thanks Kaya!:

Hi! Me and some buddies attended the 4th ever Moulin Rouge Midnight screening show. We would have gone earlier but AP's are ruining our lives! Anyway, we went full out with the costumes, hair, and makeup. It was great! We had two cancan dancers, one Christina Aguilara (lady Marmalade style) , one Nini (tango style) , one Satine ( black top hat outfit) and another Satine ( pink diamonds outfit). We looked great if I do say so myself! Anwyays, we watched the movie before we left for the theatre so that we could write a list of responses for during the movie. When we got to the theatre, we had a fun time walking two blocks from the car and having guys whistle at us...anyways..... we arrived at the theatre and bought our tickets. I was sad that not more poeple dressed up, though there were a few other groups wearing costumes. We took pics with the MC, who gave us prop bags, and we went in. Then we sat in the 2nd row and sang along to soundtrack which was playing. The MC (whose costume was FABULOUS!) explained the prop bags and did a little trivia, as well as pointing out some bloopers to watch for. Then my friend won a CD for knowing what the sign said on roof of Christians hotel. Then the movie started. Everybody went totally full out, singing along and shouting stuff at the screen. The props included confetti, streamers, poppers, fake money and other things. One guy acted out the little conductor guy in the beginning of the movie so we decided to act out whatever part we were dressed up as. The movie was AMAZING, (how could it not be???) and at the end, we left. Hehehe. I really wish more people would come. We have the chance to start the next movie cult classic and make Moulin ROuge live forever. We had a great time and we'll return soon. :)

-Kaya
Also before you loose your chance, pick up a copy of Out (April issue) with Ewan McGregor on the cover and keep an eye out for People's Oscar wrapup issue with Nicole on the cover.

24.mar.03 Congratulations Nicole on your Best Actress OSCAR! How appropriate that on the 75th anniversary of Oscar, The Sparkling Diamond takes home her own little gold man. For more discussion on Nicole's win, click here. For Nicole's speech visit Oscar.com.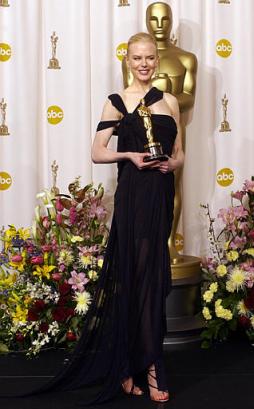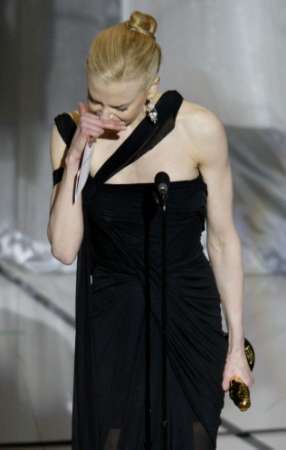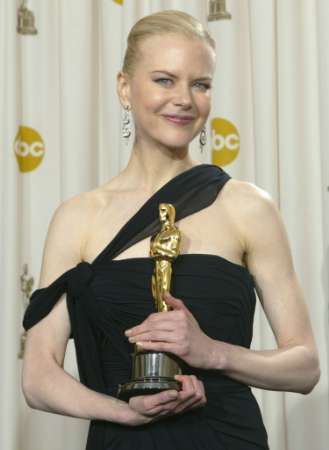 Photos courtesy Yahoo! News.

11.mar.03 As reported at NKU and the MR boards Antonia Kidman (Nicole's sister and Aussie TV personality) reported March 9th that Baz and CM are expecting a little bundle of their own, and we're not talking Alexander! Just start humming "Rock-a-bye Baby," you know you want to.

In other news... Well it's finally happening. Some of you naysayers out there said it wouldn't, but it did. Moulin Rouge is finally reaching cult status. Due to the perserverance of one heroic fan, Bridgette of Madison County and a small mob of supporters, Fox Studios has re-released Moulin Rouge for a special engagment of midnight showings every Friday in March at the Mann Festival Westwood Theatre in California. The film premired last Friday to long lines of excited fans. Hey maybe you were even there! According to yesterday's Daily Bruin,
"After a groundswell of public demand, FOX Studios re-released Baz Luhrmann's "Moulin Rouge!" for weekly midnight screenings at the Mann Festival Theater. Last Friday's inaugural event could be the start of yet another cult film tradition, following in the footsteps of cult phenomenon "The Rocky Horror Picture Show."
Read the rest of the article and more about Bridgette's struggle at UCLA's Daily Bruin. The show is only guranteed to go on through March so show up every Friday, come often and come early! And in costume! With your allegiance to the Rouge, it could become a permanent fixture at the Mann and hopefully spread out to other theaters across the globe.

Check out moviefone's Mann Theatre site for showtimes and a map.

Spectacular! Spectacular! is hoping for some photos and a review (for the site's diary) if you've gone to one of these special midnight showings. Please share the wealth!

5.mar.03 Oh yay I have a reason to update, as if Valentines day and the Oscar Nominations wasn't enough, but as Fish says "Bygones". The reason being, the site has gained 2 new awards, and a very special recognition as well as a new affilate. Sadly Naughty Words and Duke Appreciation are no longer being updated, and in the case of the later, completely gone, so I had to cut them loose as affiliates.

First the awards. On January 25 we received an award by The Sparkling Diamond. Krys wrote: "So, congratulations on Spec! Spec!'s 'Sparkling Diamond' Award for the site with the Biggest Fan Base (cause honestly, IT IS!)" Thank you so much Krys!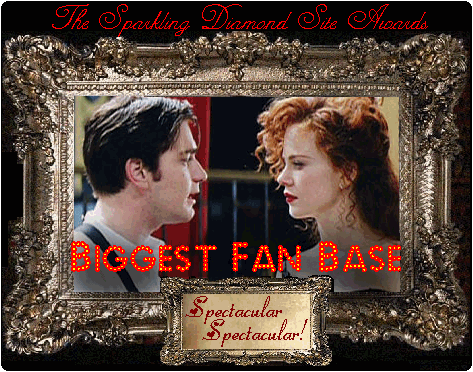 Our second award was given Feb 5, 2003 by Luka of Coup d'Etat. Luka wrote: "I just made an award for Spectecular Spectacular site. It's not really beautiful, but it's by heart. I hope it means something to you." Luka was so sweet to send it to me, thank you so much!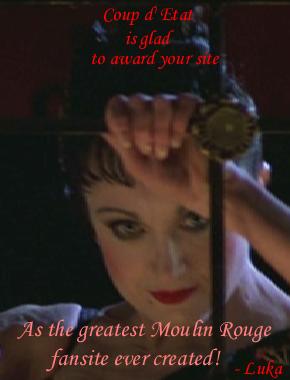 And finally our biggest news of all, and a complete surprise to myself, this is the reason for our newest affiliate, Oh My Baz!. This new site was made with the official fanlistings as a fanlisting for this site's message board for Moulin Rouge.




There is actually a fanlist for our community. It's really lovely. Thank you Krys of the Sparkling Diamond for making it. Krys is the consummate fan and entirely dedicated to spreading the word of Moulin Rouge. You Go Girl!

Also on the Ewan, Nic, and Baz fronts... Ewan is featured on the cover (foldout) of April's Vanity Fair. Nicole as you know is up for the Academy Award, broadcast Sunday March 23. She also won a BAFTA, the Silver Berlin Bear, and the Golden Globe. Is Oscar calling her name? Find out March 23! Baz was on the cover of Austrialian Weekender newspaper the weekend of March 1-2.

Also updated the Fanlisting/Rings page as well as the Menu to feature the new affiliate and get rid of 2 old ones. Also updated the My Awards page. I was hoping to update my links as well, but I can see that will take a bit more time, and the most important bit of the update is done. Now you guys can stop saying "when will she update again!?"

16.jan.03 Happy New Year! Yay It's official! It's Nicole Kidman Week. The mayor of Hollywood, Johnny Grant, declared the Jan 12 - 18 Nicole Kidman Week. We all know Nicky was on Live with Regis and Kelly on Monday, and the Tonight Show with Jay Leno on Tuesday, and will be on the Early Show on CBS tommorow, but the topper happened on Monday when our girl was honoured with the 2,211 star on the Hollywood Walk of Fame. Her star is located outside the Kodak Theater next to Steven Speilberg's. The big question is, will next week also be Nicole Kidman week? Sunday is the Golden Globes, and Nicole is up for Best Actress for her role as Virginia Woolf in The Hours. Here are two pics courtesy Yahoo! of the unveiling on Monday.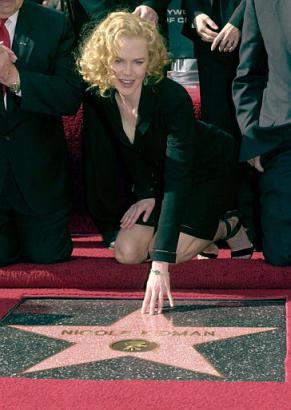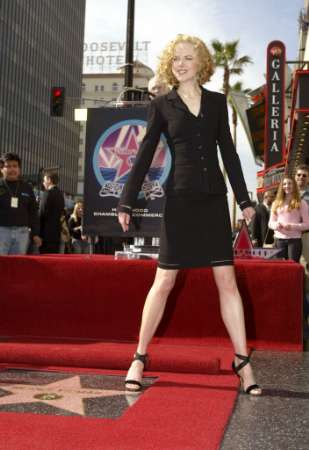 Also don't forget to pic up this week's people (the one with the weight loss cover story), it may be decieving but there's a great article on Baz and La Boheme inside. Also pick up this week's Entertainment Weekly, and January issues of Elle and Redbook with Nicole on the cover.

24.dec.02Yahoo Merry Christmas everyone!!!! We have a winner for the Cafepress competition. Congratulations KRYS for your inspirational University of Moulin Rouge design. We're working out some minor details before the items can be available for purchase. Thanks also go to all who entered, you all have enormous talent! Sorry to all of you counting on it for Christmas gifts.

Members of the board. We now have about a month till our Gold Community subscription runs out. Right now we have a total of $5 in our community chest. Thank you Ginger! That means we just have to raise around 100 for the entire year renewal. If you contribute, you'll have access to our Club Diamants which is for comunity supporters and community chest contributors and moderators only. You will also receive a lovely little picture of a diamond dog which you have adopted and saved from the streets by helping the site. You can use this on your site or in your signiture, and each are one of a kind. After the subscription is bought and paid for, I'll take away the restrictions on posters (except Rubies) and the board will again be visible to non members!

4.dec.02 The contest deadline is now extended an extra week in the hopes that we will get more entries, and the tweaking of prior entries may take place. THE NEW DEADLINE IS THURSDAY DECEMBER 12 AT 12:00 AM The Cafepress store should be up in time for your Christmas list.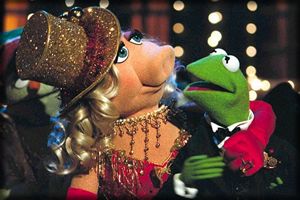 For all you poor souls that missed the Moulin Rouge parody "Moulin Scrooged" on the NBC special A Very Merry Muppet Christmas, the show will reair Dec 8 on NBC. Check your local listings, or tv guide online

A few board members and some friends of mine and I are planning on going to see La Boheme in NYC in March. We were planning on going in January, but that doesn't seem possible now. The Broadway theater is selling a bunch of souveniers, incluidng T-shirts, that weren't available in San Francisco. Details to follow.

13.nov.02 Wooo it's been a long time since the last update. Spectacular! Spectacular! is going to help promote Baz's La Boheme on Broadway! Here's a banner that will take you to the website. Expect more pics and stuff to come!





While you're out doing some early Christmas shopping, here are some tidbits you might want to look out for. Pick up the November issue of Vogue, there's a story on Baz, including lots of pictures and Baz's Diary! In the December Vanity Fair, Nicole is on the cover, there's an article and photoshoot and a small half a page thing on Baz's La Boheme as well as mentions in the cover story about the film Chicago. Ewan's Star Wars Episode 2 is available to rent or own on DVD and VHS since yesterday. You can pick up a copy of it on DVD for only $9.99 at Toys R Us.

The link to our Guestmap shared with Moulin Goldmine has changed.



COMPETITION: Finally, Spectacular! Spectacular! is hosting a competition. We would like to set up a Cafepress store to help pay to keep our messageboard popup free as well as promote the site and offer cool gear for our visitors to wear and buy.

Due to copywrite issues at Cafepress, I cannot simply stick our ezboard's logo on a ton of stuff, so we're opening it up to competion. Anybody can enter; it's possible we could use all of the entries, or none (if they don't follow the rules of Cafepress). I'll create a small group of impartial judges and we shall judge you! Also we're looking for slogans and images. It is possible if yours is selected, we may alter it to fit an item, or change the slogan or whatever. If for any reason you guys have a psychic connection and sumbit the same image or slogan, we'll credit the first to submit it. You can enter more than one, but if you are lacking in creativity, please get a second opinion before you send it in.

The Deadline: December 5, 12:00 a.m. (midnight) board time (Central USA time).

Please send all entries with your name (can be a pen name) a/o EzBoard name by the deadline to the following:

The Email: spect2contest@lycos.com (notice this is not my regular email address)

What you'll win: Love and admiration by me and the board moderators. Your artwork will be displayed on many items in the cafepress store (and possibly on mugs and shirts of people everywhere, your work could even be on underware!). And you'll get your name up on our site with a lovely picture of your artwork or slogan on an item. :) How's that for incentive?

Cafepress guidelines for me and you:
Copyright Authorization By uploading, you agree to abide to all terms and conditions of the user agreement, which includes:



I own or have obtained full authorization to use this image [i]for sale on merchandise.
CafePress.com may disclose my contact information to a copyright/trademark owner demonstrating likely misuse of an image.
I will indemnify CafePress.com for all damages resulting from my stores and images.
I understand that merely NOT marking up the price of an item does not change the damages I face from infringement.


The following types of artwork ARE NOT PERMITTED on the CafePress.com service:

Images using the likeness of an existing copyrighted work to create new artwork (manipulated photos, logos, etc).
Names, logos, or pictures of companies, brands or products that are not yours (i.e. photos of BMWs) (even in parody).
Names or images of famous people.
Names or pictures of third parties without their consent.


If you did not create the image you are uploading, assume that the image is copyrighted and NOT PERMITTED for use on CafePress.com. For more information about common questions and common mistakes, click here. To discuss Intellectual Property Rights issues, visit the CafePress.com forum. If you have a specific copyright/trademark question, email us at service@cafepress.com.


What all this means is, you're going to have to be creative. I've already decided we'll definately have something with the Baz prayer on it, but that's the only think I'm commited to, and I'd have to design some sort of look to it.

Nicole Kidman Birthday Chat.
MR SUPER FAN MAP




Diamond Dog Krystina of The Sparkling Diamond wanted to remind us to say our daily Baz prayer by sharing this picture with the board. And she graciously allowed me to post it here.




IMPORTANT! We are looking to create a fanfiction/fanart archieve for the site. For more information, click here.




Legal: The images on this site are property of 20th Century Fox and Baz Lurhmann Productions, 2001

This site is made with Yahoo PageBuilder, Tripod's freeform and filemanager, NoteTab light, and of course a little bit of love